Download "Bike or Die!"
---
for Palm


Free trial version

"Bike or Die!" is shareware. This means you can try it for free.
Then, if you like it, you should purchase the full version :-)

The most recent version is: Bike or Die v2.1b

Requires Palm OS 5 (color display)
New in 2.1: Save and Resume!
New in 2.0d: Biker girl character
Improved in 2.0d: Sony Clie 320x480 support
Improved in 2.0c: More flexible memory management - now it also works on devices having much smaller dynamic memory heap (e.g. Zire 71)
Bugs fixed in 2.0c

Holding the button assigned to "restart level" no longer restarts the level continuously (which breaks your stats)
Didn't ask before quitting even if the option was enabled (Control Options)

Bugs fixed in 2.0b

No longer blocks application buttons when some functions are assigned to "Tap center", "Tap left", etc.
Fixed a serious bug that made the intro crash depending on the font installed in the device

New in version 2.0

Improved level design, more textures, 3D-like effect
Background music
High contrast mode
Customizable bike appearance
"Player Profiles" for storing multiple configurations, especially useful when playing with family or friends
Variable zoom
"Map mode" is no longer static, you can even play on the map screen (as long you can manage to steer a tiny bike)
Commonly used menu commands can be assigned to buttons

Upgrading: Just install the new version over the old one, don't delete the previous version.
Registered users: Special offer - you can upgrade to version 2.0 for just $5.95 - Click here for details

for iPhone / iPod Touch
The most recent version is Bike or Die v.2.1.2

Requires iPhone OS 2.0 or later
Fixed in 2.1.1: previous version could lose your best times under some circumstances
New in 2.1: Save and Resume!



Lite Edition - Try Bike or Die for free!
Alternate versions:
Bike or Die 1.x
---
Full version
The full version allows you to play all builtin levels and many more extra downloadable levels (see below).
---
More levels
The 25 built-in levels is just the begining. Visit the
Levelpack Explorer
to see (and download!) all
201 levelpacks
(containing
2963 levels
) submitted by
Bike or Die
players!
---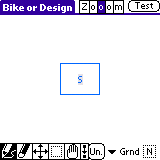 Level editor
You can create your own levels, too!
Download

Bike or Design v1.5

Online User Manual
Note: The editor is available for free and fully functional, however you need the full version of Bike or Die to play levels created using the editor.

---
More games from Toyspring
If you like "Bike or Die", you could also try
my other games
:-)